Catalyst Advisor Team
Jeffrey J. Newman
Founder and Chief Executive Officer
As a longtime Silicon Valley executive, Jeff brings his vision, leadership quality and depth of strong alliances and relationships with an industry-wide global network to enabling the success of Catalyst. Based on his extensive experience in managing people to grow businesses, Jeff launched Catalyst Operating, LLC, in 2000, at the request of the venture capital community. He designed the services company to accelerate the time to market for technology companies via managed access to the Catalyst Fellow Network,TM a closely-managed global intelligence network of over 400 of the most influential senior corporate executives. Catalyst has been significant in the development and market entry of many venture funded companies as well as public companies repositioning into new markets.

Prior to founding Catalyst, as President & CEO of Quest Associates, a consulting firm he founded in 1986, Jeff was instrumental in enabling several highly visible turnarounds in the technology industry. Through re-building the entire management teams, Board of Directors and crafting Advisory Boards in alignment with his clients new strategic roadmap, Quest was integral to the successful liquidity of Vantive Software (acquired by Peoplesoft for $433M, now part of Oracle), Frame Technology (acquired by Adobe Systems for 7x revenues) and Valid Logic Systems (acquired by Cadence for $198M in 1991). In addition, Jeff built the core management teams and Boards of Directors for a multitude of high-growth private technology companies, such as Arcot Systems, SonicWALL, Chordiant Software, Tripath among others. Through Quest, Jeff operated in markets from silicon to systems and strengthened his global executive network which became the core of the Catalyst Fellow NetworkTM, a confidential intelligence network of thought leaders brought together to receive protected access to exclusive technologies and various industry relationships and opportunities.

Jeff began his career in 1982 as the Vice President and General Manager of Chase International (Executive Search Division), based in New York. Jeff attended Cornell University and the University of Miami, Florida, where he played football for the Hurricanes. In his spare time, Jeff enjoys spending quality time with his wife and three children, attending sporting events and is an avid sportsman himself - coaching his kids in several sports while keeping up his own regimen of athletics.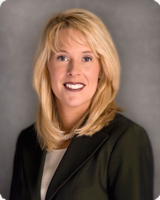 Anne M. Newman
Co-Founder and Sr. Principal
Anne, a founding member of Catalyst, has played a significant role in growing the Catalyst Fellow NetworkTM and managing several portfolio companies including Spansion, Solid Information Technology, Sygate, Geotrust, Baypackets, Applied Identity, ipUnplugged among others. Anne brings an extensive background in business operations, client management, organizational development, and executive recruitment to the company.

She joined Catalyst in January of 2001, from Quest Search Associates, specializing in placing executive management teams for technology companies. Anne was instrumental in formulating and managing the plan to merge Quest with Catalyst to support the company's fast growth rate and need for key talent. From 1995 – 2001, she served as VP Operations for Quest, with P&L responsibility for the best of breed services business founded in 1986. At Quest, Anne built and managed a team that successfully delivered quality Board of Director and Executive hires for several multi-billion dollar clients, including Cisco, Sprint, and Intel as well as placed complete management teams for privately-held companies. She was responsible for all aspects of running the business and was the visionary behind Quest's revolutionary client pricing model, "Premier Staffing Partnerships". Prior to her leadership role at Quest, Anne was the top revenue-producing Executive Recruiter in the company's history and the youngest Consultant hired.

Anne received her Bachelor of Science degree in Psychology with an emphasis in Organizational Development and a minor in Spanish, from Santa Clara University with Magna cum Laude Honors. She was elected to serve as a member of the Phi Beta Kappa Society, the nation's oldest academic honor society. Anne also served as "Miss Greater San Jose" 1994, The Miss America Scholarship organization and is still involved with the program today as a volunteer, interview coach and judge for local and state scholarship pageants. She is married and enjoys spending time with her three step-children and two Toy Poodles, especially in Lake Tahoe and any of the Hawaiian Islands.

Jim Jordan
Executive Financial Advisor
Jim Jordan is a seasoned financial executive with extensive experience in software, professional services, manufacturing, mergers and acquisitions and IPO's. As Executive Financial Advisor, Jim provides Catalyst business ventures and clients with a deep and broad range of financial leadership capabilities. Jim has served as CFO to more than 20 companies over the past 15 years, successfully raised more than $500m in debt and equity and completed more than 30 acquisitions. Jim currently acts as RiverMeadow Software's Chief Financial Officer.

Jim also has extensive international experience having started and run business in Asia, Australia and Latin America. Notable CFO positions include; Airwide Solutions, Venture Advisors (founder), Glasshouse Technologies, EnerNoc, Verillon, BIT9, Savantis, CXO Systems, Ntru, ArsDigita and Cambridge Technology Partners. Jim began his career at Coopers and Lybrand where he specialized in IPO's and Mergers and Acquisitions.

Jim is a graduate of Boston College, is a CPA and a former Army Ranger.

Scott Colgan
Sr. Marketing Advisor
Over the course of his career, Scott has played both techincal and business roles within Silicon Valley hi-tech b-to-b and b-to-c companies. As a member of the Catalyst Advisor team, Scott focuses on providing marketing strategy and best practices to Catalyst ventures and clients. Scott currently acts as RiverMeadow Software's Vice President of Marketing.

Early in his career, he held regional sales and business development positions with early stage ISV companies serving groupware, enterprise application integration (EAI) and mobile GPS markets, positioning new products and technology platforms into Fortune 500 corporate accounts and partner channels. Scott also co-founded and managed a successful web marketing and development firm servicing clients in the Hi-Tech, Venture Capital, Academic and Community Foundation arenas.

In 2003, Scott joined McAfee's world-wide consumer division where he led ISP, web portal and retail channel teams, managing high-profile accounts including Microsoft, AOL, Comcast, Telefonica, BestBuy. He delivered best practices and program strategy to partners around the world and oversaw multi-million dollar programs, product packaging and retail launches, as well as on-and-off shelf acquisition and installed-base marketing campaigns.

In 2006, Scott joined TiVo where he managed the web marketing organization responsible for producing the company's online properties and marketing initiatives. He led rapid development technical teams and provided strategic guidance and execution for TiVo's mobile marketing program.

Scott holds a B.S. degree in Business Administration from the University of San Diego. When not working with clients, Scott enjoys spending time with his family. He is an avid sports fan, has a fond appreciation for community and approaches life as he does business, with opportunity and optimism in mind.

David Pyle
Sr. Technology Advisor
David brings 11 years of product management and web development experience to the Catalyst Advisor team. In addition to serving as a technology advisor for Catalyst, Dave also oversees product management at RiverMeadow Software. Early in his career, David worked for several web-based start ups, eventually settling at CNET where he worked on the development of their comparison shopping engine, Shopper.com.

Following CNET, David worked as a private consultant architecting and developing web applications before going back to graduate school. After this, David moved to San Antonio, Texas where he taught computer programming at San Antonio College. As a member of the Catalyst Operating Team, David acts as a technical lead, offering expertise across a broad range of technologies.

David attended the University of Southern California on a Trustee Scholarship and as a National Merit Scholar. He graduated Summa Cum Laude with a B.S. degree in Environmental Biology (which included a semester abroad studying wildlife in Kenya). He also holds a Masters degree in Mechanical Engineering from University of California, Los Angeles, with an emphasis in micro-electromechanical systems (MEMS). David spends most of his free time with his family and trying to stay in shape so that he can keep up with his kids.

David Lilienstein
Sr. Legal Advisor
David M. Lilienstein, Esq. is a highly accomplished litigator and trial attorney. He practices in California state and federal courts. He has achieved Advocate Status from the American Association of Justice's National College of Advocacy. David clerked at the Ninth Circuit Court of Appeals, and later was on the winning team in the case of Hangarter v. UnumProvident, a landmark insurance case, tried in United States District Court. David is widely published in insurance and contract matters, and has shared is expertise in many television and radio appearances.

David has been recognized for excellence in intellectual property writing, and while at USF was an entrant in the Nathan Burkan Memorial Competition. David has lived in the San Francisco Bay Area for more almost 30 years. He is on the Board of Directors for Bay Area Community Resources, a 501(c)(3) non-profit agency that promotes youth leadership, national service, and healthy communities, among its many offerings.

David attended the University of San Francisco School of Law and holds a B.A. from Grinnell College. He is an avid sportsman. When David is not coaching his daughter's soccer or baseball team, he plays hockey and lifts kettlebells, and is an avid photographer.